Be Social
"Being Social in real life is the key to become successful in Social Media." ~ Suresh Babu
Here's how Students Learn Social Media Marketing in Bangalore #Web Marketing Academy – Socializing in real life

Share
We had seen each other's faces in the academy, maybe even exchanged smiles, but that was it. We didn't know each other's names because we were from different batches or different training timings. Let alone knowing each others' likes and dislikes.
We spend a minimum of 10 hours a week in the academy, gazing at the going-ons, yet we know nothing about each other. How ridiculous could that be? In this era of Facebook and Twitter where we share our personal photos in seconds and all the "sweet moments" of our lives messaged in less than 140 characters – do we really consider spending some time getting to know others? In other words, are we REALLY social?
Breaking News                                                                                                                                                      
The students and the staff of Web Marketing Academy started their Monday like any other – excited, fresh and looking forward to learning something new. Learning something new, they did, with fun and style – that's what this story is all about.
There was breaking news at a little past noon on April 6th, 2015. Our CEO Suresh Babu decided to take us out for lunch – ALL of us – the students and staff – together.
We were excited; no we were stoked to spend time together with everybody currently involved with WMA. And to have lunch at Kings Kafe & Kitchen at Marathahalli, this was great!
Get, Set, Go!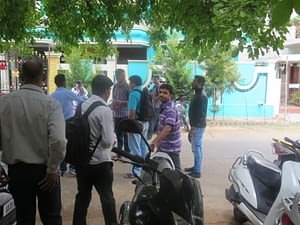 The moment we got the news, we packed our bags and ran out the door. We had to co-ordinate with a couple team members before we left our office at around 2 pm. 2 cars, 8 bikes and we were off in a flash. Suresh ensured the people who traveled together in the cars or the bikes were people who hadn't known each other in the past.
That was a smart move because during the travel, each had their chance to talk, know a few things about each other. When they finally arrived at the restaurant, it seemed like the seed of friendship had been sown. We traveled in Suresh's car; we had 5 people in it. During our introduction, Suresh got to know that the student Meenakshi was from the same school as his spouse was. There was an instant connection. The conversation proceeded and a sense of friendship bloomed.
Unfamiliar Territory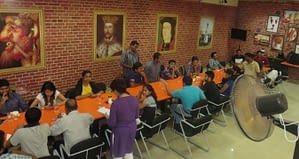 Another smooth move came at the restaurant. Suresh ensured that the people who were seated next to each were someone they didn't know before. At one point, there were a few confused glances wondering why this seating arrangement!
I mean we feel comfortable sitting next to people we know, don't we? We could talk to them, share a smile or even perhaps exchange a couple desserts on the plate. Nope, that wasn't meant to be.
We all found ourselves in unfamiliar territory. New restaurant, people we'd seen but never really interacted with. We have to admit, it was strange.
Ooh la la – the delicious food!
There were a few minutes prior to the luncheon, we had the opportunity to learn a few things with our 'new' partners, next seat. And again, like we found seeds of friendship sown during our travel to the restaurant, we felt a level comfort on getting to know each other a little bit.
Then of course, it was lunch time, we had some delicious food – mixed vegetable salads, potato fried, sweet corn soup, biryani, stewed vegetables, chicken gravy, paneer butter masala, chapattis, pizza, buns – you name it. I mean it was a feast! And while eating, having conversations with someone new next to you – someone who's just become friends – is a great combo. Everyone should try it!
Did I mention the Desserts? Oh yeah, those were yum too!
And then Suresh's story
After the exhausting session of eating, we were summoned to a meeting with Suresh.
Quickly, the chairs and tables were rearranged to give us a feeling of social setting. And right in the middle of the crowd was Suresh – with his stylish linen shirt and the casual jeans as he began to speak.
He gave a brief about his childhood, his employment, and his entry into the world of digital marketing. He also spoke about how he was this shy, introvert who wasn't comfortable talking in public. And here he was now, grabbing everyone's attention and imagination. He was telling his story.
Back to the beginning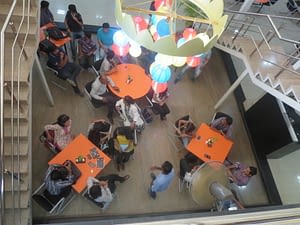 Suresh then explained the reason behind why 'strangers' were asked to ride pillion, he explained why the funny seating arrangement during lunch. Well, this luncheon had an 'Objective'. And the objective was to get people to know each other, to understand each other – even a little bit. The objective was Socializing. We are all in the field of Digital Marketing – and we talk about Social Media Management and understanding the customer behaviour and so on, and so forth.
The point Suresh was trying to drive home was that – with all the latest and greatest of technology we shouldn't lose the personal touch that makes us human. (The Social Element, the normal stuff like talking to a person, breaking bread with someone, the network, the community, the sense of togetherness, the hang out, real hangout)  And the foundation to our success in Social Media lies in our ability to meet people, interact with them, understand other's likes and dislikes – in simple terms be sociable in real life and that my friends can rub off on your Social Media Management success.
Sometimes it isn't easy. It wasn't easy for Suresh either. He was scooted towards the direction of meeting people, speaking in public and sharing the knowledge and skills with strangers. It took time, but he made the efforts – today he is a success, someone who is making a mark in the Digital marketing space in India. So work at it, and the success shall be yours too.
Suresh tried this creative approach to make the lunch on a random Monday, a fun learning experience. And boy, did we all enjoy it – not just the delicious food but learning a great life lesson.
This entire week in Web Marketing Academy is going to be Be Social in Real Life Theme
Until next time, keep socializing.
Let's Be Social: Give us a call +91-8792299538, email us : social@webmarketingacademy.in

We share all the update like these here: Facebook: https://www.facebook.com/webmarketingacademy
Share
About the Author :
CM Manjunath is currently a trainee at Web Marketing Academy. He is a Digital Marketing Enthusiast who has a flair for providing value through writing.
You may check out his blog at: www.luvwhatyoudo.com