Corporate Digital Marketing Training Programs in India
WMA's corporate digital marketing program has been designed for high performing executive, and for any staff who are looking to train themselves and their team in web/digital marketing.
Developing a successful digital marketing plan is both an art and a science. It involves the in-depth knowledge of what is in the plan, how to plan, utilizing the right resources, collaborating marketing skills, effectively communicating the plan, executing it, monitoring it and continuously updating the plan.
Participants of this program get an opportunity to develop core business skills and competencies in various functional areas; this would enable them to handle issues involving cross-functional areas. Eminent faculties of Web Marketing Academy cover the curriculum. Participants involve themselves actively in case studies and discussions, role-plays, hands-on training, etc.
Program Objectives
This intensive course will look at the key considerations on how to build a digital strategy and assess what the future has in store
This course will run through the acquisition tools (Search Engine Optimization, Search Advertisement, Google Ads, Content marketing, affiliate marketing, mobile marketing, display advertising, analytics techniques, web analytics) as well as digital marketing management (web marketing team, in-house, web marketing plan, budgeting)
It will also simplify the technical jargon commonly used in digital marketing such as RSS feeds, canonicalization, tag clouds, social commerce and more…all in a simple, easy to understand way
Provide guidance to think through advanced web marketing strategies with a global and local perspective
Corporate Digital/Social Media Training Clients: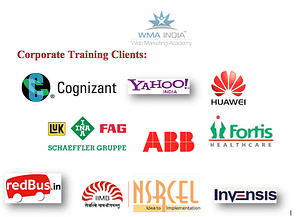 Our Faculty
Has over 14 years of experience in digital marketing & teaching
Alumni of IIMB & IIMC works closely with NSRCEL, IIM Bangalore
Served as the board of director for Sarasota Chamber of Commerce
Speakers & moderator for digital marketing conferences
Guest Faculty – Digital Marketing MBA students, Christ University, Symbiosis, and B Schools
Director, Search marketing summit Bangalore. Prior to this, Suresh was the Web Marketing Manager for Vayama
REGISTRATION
The Program Director, Web Marketing Executive Education Programs
Phone: +91 9731388721