Digital Marketing Training Courses in Bangalore
Covering: Modern Digital Marketing | Video & Content Marketing | Search Engine Optimization (SEO) | Google Ads | Social Media Marketing | Google Analytics. Flexible Weekend, Weekday & Evening classes in Indira Nagar, Bangalore.
Short term, Customized courses available on request: Call: +91-8792299538
New & Updated Course Curriculum with Hands-on Practical Training. Google Ad words Certificate Included. Digital marketing is dynamic and changes every day. Keeping this in mind we are updating the curriculum and course content on a regular basis.
Question: What are the digital marketing course fees in Bangalore?
Web Marketing Academy Course Fees:
Rs 65,000 + GST = Rs 76,700 which can be paid in 3 instalments or Loan Facility Available
What's Included:
200 Hrs of Live Instructor-led training – Value 1,00,000
Detailed Updated Study Material – Value 30,000
Sample Templates, Reports – Value Rs 20,000
Live Ad Campaigns – Value Rs 2,000
Class Recordings – Value Rs 30,000
Lifetime Mentorship – Price less
Life Projects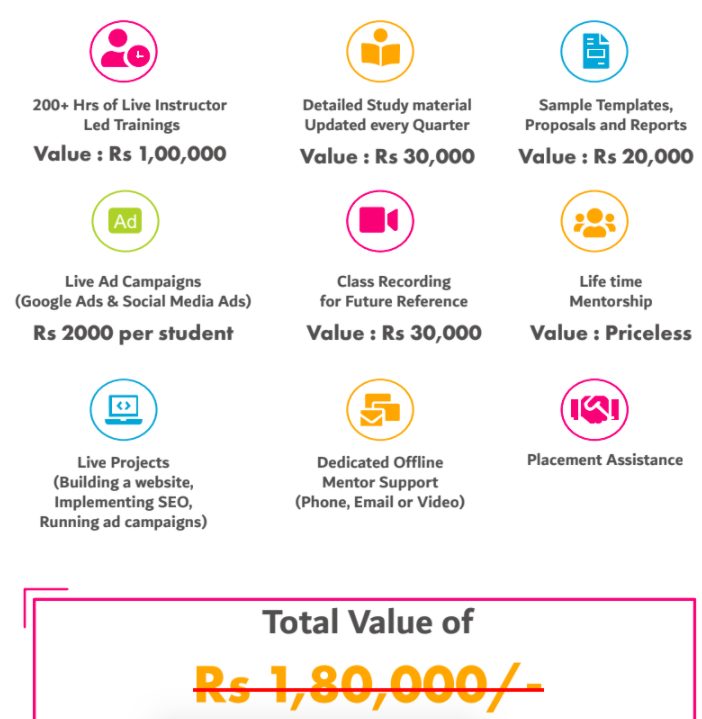 Our Alumni are Placed in Prestigious Organizations like Google |Amazon | Accenture | Cognizant | Common Floor | in India and abroad.  30% of 900 students have started their own business. Are you ready yet? Check out our student's stories here: https://www.webmarketingacademy.in/testimonials-wma-india/
We encourage you to check out our- YouTube channel http://www.youtube.com/user/webmarketingacademy , where you can find attendees like you; who have participated and shared their experiences.
Upon completion of the course, a Course Completion certification will be awarded to you. However, in order to be a "Certified Digital Marketer" by WMA, you will be evaluated based on your performance on the live project you will be working on during the training. This live project will equip you with hands-on experience and also in identifying/understanding your personal strength in Digital Marketing.
Tools & Resources:
Sitechecker is a platform that gives detailed tips on how to improve the search visibility of your websites and helps to track your overall SEO progress.
Key Features
Easy to use design for non-SEO business owners.
Real-time monitoring of the changes on the website. It is easy to assess whether the number of bugs has dropped after fixes, or how many new bugs have appeared after some work.
Instant email alerts when something critical happens with the website.
Google Analytics and Google Search Console integration
For email queries/ seat bookings, please mail suresh@webmarketingacademy.in or Call: +91-8792299538
For Corporate Digital Marketing Training in India: https://www.webmarketingacademy.in/corporate-digital-marketing/
Office Address & Map: 12th Main A, Indira Nagar:

1003, 12 A Main, 2nd Cross Rd, HAL 2nd Stage, Doopanahalli, Bengaluru, Karnataka 560008
Near Magnolia Bakery and Smoor Chocolates Signature Lounge – Indiranagar