Web Marketing Academy, Search Engine Optimization SEO Case Study:
Client: Real Estate Ooty, www.realestateooty.com
Website Design: Meena http://www.meenabopaiah.com
Web Marketing: SEO, Social Media Optimization by Suresh, Web Marketing Academy: www.webmarketingacademy.in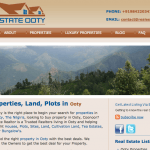 Ooty Real Estate is a real estate agent in Ooty, The Nilgiris, until 2008, Ooty real estate was a traditional business. In 2008, we proposed to help them with Search Engine optimization, social media marketing and content marketing.
Research and findings
Something interesting was noticed during researching the real estate scenario in Ooty. It was noticed that although people want to buy property, but knowledge of the local specialties was lacking. For example, the schools of Ooty, which have high international standards of education and are a part of rich tradition of Ooty were not taken into consideration. Also the provincial wildlife, the lifestyle of local inhabitants, the delicious home made chocolates, the British vegetables cultivated locally- all these attractions had to be refreshed in the minds of people to draw them towards investing money and buying private paradises on this striking landscape.
Goal:
To increase leads 5 property visits per month
Provide useful, valuable content related to Ooty life style
Visits and engagement through website/blog
Engagement in social media channels including sharing pictures of Ooty
 Solution:
Created a blog, and the central theme thus revolved around experiencing the Ooty lifestyle and this triggered quite some investigation and study of the lifestyle of the inhabitants for bringing it out as an enticement to willing patrons.
Action plan:
Introduced the Ooty Real Estate blog which focused on the lucrative local specialties http://ootyrealestate.wordpress.com in 2008
Launched the website www.realestateooty.com
Launched Online Marketing campaign in early 2008
Search engine optimization following industry best practices
Created content through blog post, videos, images
Richly supplementing the website content with 500 different well-researched key word combinations http://www.realestateooty.com
Results:

37000 visits to the Ooty Real Estate website -www.realestateooty.com
More than 50 keywords in top 10 positions
180,029 views all-time for Real Estate Ooty Blog http://ootyrealestate.wordpress.com
1500 telephone calls to the offices
3200 email inquiries till date (Sep 2012)
95 property visits till date (Sep 2012)
35 property registrations till date (Sep 2012)
A 100 acres deal from popular real estate market leaders in Bangalore
In conclusion, the Online Marketing campaign (SEO) for Ooty Real estate delivered admirable results in terms of acquiring prospective and actual buyers. The blog contributed greatly to provide the much-required visibility as well as exposure to the business and formed pivotal in its current accomplishments.