Scope & Hope for Digital Marketing in India
How to get start a Career in Digital Marketing in India?
Stay current, dedicate time: Just like any other skill, dedicate the time to update yourself in digital marketing.
Spend time on verified resources: Dedicate at least 1 hour a day. Start with this breakup then find your mojo!
Participate in digital marketing events:
Find a digital marketing mentor: It's not easy to find a mentor but if you are in Bangalore, walk into our office. Talk to our staff and students, someone would love to mentor you. Give a call to Manasi (8792299538) and mention this post, she will put you in touch with the right people.
Watch this video, my personal recommendation: http://on.ted.com/Cuddy
Listen to Digital marketing Podcasts including our Weekly digital marketing update athttp://www.digitalindiapodcast.com/.
Other digital marketing podcasts to listen to: http://goo.gl/vFR5Z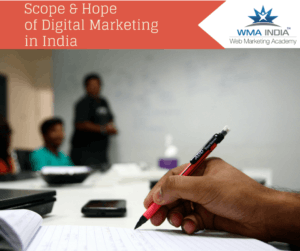 Early Monday morning, a couple with their son came down to my office at the academy. The boy's name was Sujith. Sujith's family was from Pune and Hindi speaking, not my forte. They were here to understand how digital marketing could help Sujith. Sujith was struggling with his language but got by. I called in a staff member to translate and we conversed for about half an hour.
Sujith enrolled in our digital marketing course, is part of a live project today, near the end of his course, and steps ahead of where he used to be. Talk to him today, and you see a confident youth with a passion for digital marketing.
What I want to talk about now is a result of a question Sujith asked me last week, "Where can I get a degree in digital marketing in India?"
Unfortunately, not many universities offer a degree in digital marketing yet. There are several reasons for it which we'll get into shortly. But first, let's see the state of digital marketing in India today.
The State of digital marketing in India
Clearly, digital marketing's here to stay. What's even more exciting is that this is just the beginning!
Challenges in the digital marketing space
Demand & Supply: The market is in dire need of skilled professionals but there's a shortage of talent. Digital marketing is not part of the curriculum in today's MBA or Marketing programs. India needs to host, drive and participate in more digital marketing conferences, meetups, and seminars.

Some upcoming digital marketing events:
I wrote an article in Jan 2013 on this gap in B-schools. It's high time digital marketing is made part of the curriculum. You won't become a digital marketer in a day but if you start now, you'll be much better placed in the next 5 years when everyone will get into this space. By then, you'll be managing a team or even be the VP of Digital Marketing. It all starts with you.
Here are some resources for you to get started: http://goo.gl/mfIdkR
Digital Marketing Education: Despite demand, why is there are no Masters in Digital Marketing? Why is digital marketing not even taught in MBA? It took me almost 3 years of lobbying to get Digital Marketing part of the syllabus at Christ University. The challenges were many – regulations, board, internal challenges, etc.
But teaching and getting work done are two different skill sets. That's one of the reasons we conduct monthly meet ups and encourage the Online Marketing Enthusiast Community members to volunteer to speak and educate while we train them. Still, it's a big challenge. (Disclaimer: I am the Founder of OME Community.)
I hope more enthusiasts will volunteer to speak at the events and that more universities will bring in industry leaders to interact with students on a regular basis. If you are a student, volunteer to organize digital marketing events in your college. I'll be happy to pitch in or at least connect you with the right people who'll be glad to come and share their expertise. And if you are a Digital Marketing Practitioner, we would love to connect with you and have you speak in some of the events and Universities. Please email me suresh@webmarketingacademy.in Stay tuned for this month's event.
Digital Marketing Conferences: Unlike other countries, we don't see many events, conferences around this topic. There are a few conferences happening in and around India but most of the speakers are self-promotional. Very few speakers give away their expertise.
If you get a chance to attend sessions from Kiruba Shankar, Amit Agarwal, Ashwin Ramesh, they are some of the best. Will share a more exhaustive list soon.
Hat Tip: " Go to these events to network with like minded people" One simple thing to do is to shake hands and introduce your self. It's hard but that's a good start
And finally, watch this video of Sujith:https://youtu.be/PYkN7-O98kE?t=7m4s. The struggling boy of yesterday is a qualified digital marketing professional with knowledge of SEO, Google AdWords, social media marketing, and more. He is a certified Google Adwords Professional, working on Facebook certification. He blogs and uses LinkedIn on a regular basis.
If you are serious about a career in digital marketing, give us a call or walk into our office. We would love to help you out.
Please note: We have people on a waiting list for about 2 months. If you'd like to enroll for the month of June or July 2015, please talk to our counselor (8792299548) or email: suresh@webmarketingacademy.