Sample Digital Marketing Strategy Guide
To my students, almost at the end of the #digitalmarketing course, we prepare them with:
1. The Job interview prep
2. Mock interviews
3. Resume prep
4. Soft skills
5. Online/zoom job interview etiquette (Recent and important one)
6. Technical revision
7. Digital Marketing Strategy
I give them an assignment with multiple scenarios and ask them to come up with a Digital Marketing Strategy.
(most of the time an interviewer will give them half an hour or a few days to come up with a sample plan)
This is one of the biggest challenges for them. To help them, I have come up with this handy Digital Marketing Strategy guide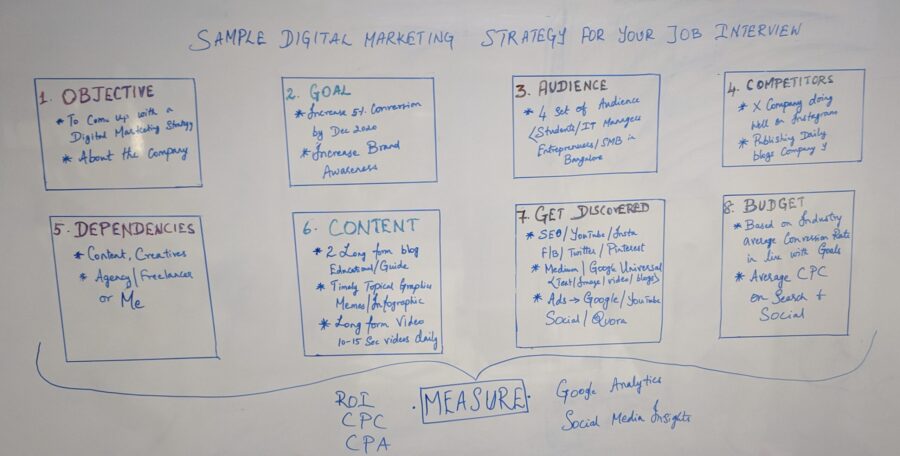 Interviewer: "We are a creative social media agency, come up with a complete digital marketing strategy"

The interviewer:
Might give you some time to come up with a plan right there

Or they will ask you to take a day or two and send them the strategy

Looking for your thought process

What experience do you have and how you used to work

Looking for your presentation skills

Your communication and how do you articulate your ideas

If the interviewer is also a digital marketer, they want to see details
Or they might come up with a scenario, this can be applied for any subject, social media, Google ads, SEO
Questions to ask the interviewer: (If required)
Please do ask questions, this will also let them know that you are not afraid and it's a good sign. Ask them, can I come up with my assumptions?
What is the purpose of coming up with the strategy?

What are your objectives? Short term/long term?

What is USP's

Who are the target audience, location, competitors 

Any budget (You are the digital marketer, you should be able to come up with the budget
Use this guide:
 To come up with multiple ideas. Use this to practice and document multiple sectors, industries 

Example: A Startup, an e-commerce company, B2B, Agency, Nonprofit

How to use this guide? I am going to give specific tips for each slide

You have to research for each industry and come up with a sample plan so that when the interviewer is asking, you already know how to
Tip: 
What do you need? A straight forward, clean PPT, or document. 

Practice, research and if you have a sample it will be easier to communicate

You might have to walk them through the slides, so know your slides. Prepare accordingly

Basic rules of PPT: Simple, easy to understand, readable, Font: 30 

Use any one of the templates that match your style. Keep it simple yet, impactful. Sample strategy template:

https://www.canva.com/presentations/templates/marketing/

 
Ok, ready to get started?
Take notes. Be creative

Shortlist one of the templates from canva
Here is the Guide to Digital Marketing Strategy Template. A step by step process to prepare a digital marketing strategy presentation: Download the PDF
(Courtesy of Web Marketing Academy, Rated Best Digital Marketing Training Institute in Bangalore)