Answer: Absolutely.
All you need is interest, passion. Anyone can do Digital Marketing. My dear friend: Ashwin Ramesh, started his own digital marketing agency at the age of 16. Yes 16,  he was one of the youngest CEO in India. Ashwin mentors and he is one of the Guest Faculty at Web Marketing Academy
Ashwin Ramesh TEDx Talk: https://www.youtube.com/watch?v=dq768Cyeiew
NDTV Interview when he was 17: https://www.youtube.com/watch?v=Jxlk6MZDIDM
Ashwin Ramesh LinkedIn Profile: https://www.linkedin.com/in/ashwinramesh/
Question: Any Success Stories about someone who completed his/her 12th and took up this Digital Marketing Course?
Sujith Mhaske, is one of our alumni at Web Marketing Academy, he came to Bangalore from Pune to take up this Digital Marketing Course and he just completed his 12th, did this course and went back, started his own Digital Marketing Company in Pune. Here is Facebook Profile: https://www.facebook.com/sujitmhaske77450
When these passionate individuals can start their own company, you too can. Talk to Shwetha, she would love to help you out: 08792299538
Question: Do companies hire without a degree in Digital Marketing?
Answer: Yes, of course
In fact, Google recently launched a few courses, where you don't need a degree.
You complete these courses and you can apply even without a degree. In a tweet, they said: "In our own hiring, we will now treat these new career certificates as the equivalent of a four-year degree for related roles."
Here is a link to 15 Companies that no longer require employees to have a college degree: https://www.cnbc.com/2018/08/16/15-companies-that-no-longer-require-employees-to-have-a-college-degree.html
Digital Marketing is in high demand & a trendy career option
The opportunities & Scope for a Digital Marketing professional are huge in India right now. A fresh graduate can easily obtain a Digital Marketing Analyst role with a salary close to 25K per month to 6 Lacs per annum, while experienced professionals can command remunerations in the range of 8 lakhs – 40 lakhs per annum. Before we get into the scope and how to get started, let's look at some trends. See table below (Internal Data)
I don't have a degree can I do Digital Marketing?
Do I need an MBA in Digital Marketing? I come from a commerce background or an art background – Is Digital Marketing right for me? These are some of the most common queries that I have seen amongst those who want to pursue a course in digital marketing.
Other Questions related to Digital Marketing Career:
How to be a digital marketer without a degree?
I don't have a degree. Can I do a Digital Marketing Course?
Is a Digital marketing course right for me?
Do I need an MBA in Digital Marketing?
Digital Marketing course for me who don't have a degree
People often assume that they need to be from a technical background or have some technical skills at least to put on their digital shoes. On the other hand, a lot of those from technical fields feel that Digital Marketing is not for them as they have zero experience in marketing.
Before we understand the prerequisites to pursue this course let me share a few real-life examples of those who have made a career in digital marketing
THE DROPOUT:
Ashwin Ramesh turned entrepreneur when he was 15, starting his own back-end online marketing and web services firm E-business Initiative. He then went on to build and create OrganicApex, a specialized Digital Marketing firm with business units that deal with web services, products, properties, and more.
Read his story here Featured in Your story: The Synup story: from cash-flow trouble to raising $6M to fund expansion.
Ashwin Ramesh, now 27, dropped out of college and since he never fancied being a desk, he was always ready to accept the mantle of entrepreneurship. Before Synup, he ran an online marketing consulting company. The idea for Synup came from the hitches he faced while scaling it.
You can look him up on Linkedin: https://www.linkedin.com/in/ashwinramesh
THE ENGINEER:
Rahul More, videographer & video editor for Web Marketing Academy comes from an engineering background. He is always busy capturing, creating video and image content & documenting it for WMA Events.
His story is rather interesting.
Rahul comes from a small village in district Beed in Maharashtra and was unhappy with the opportunities he got after engineering and he decided to start his own venture in traditional marketing. He was keen or inclined to focusing on digital billboards and hoardings. And so he began researching. During his research, he came across internet marketing that led him to pursue this course.
It was here that he realized his passion for photography and videography. He isn't a professional nor has he undergone training for this but that is what he is passionate about and loves to do and does best.
Apart from this Rahul is working on Google AdWords projects and is always helping new batches with their projects.
You can look him up on Linkedin: https://www.linkedin.com/in/rahu…
I am sure that these stories have smashed the myth that there are no such defined eligibility criteria that you need to fulfill in order to pursue this course.
So what is it that you need to get started with digital? Eligibility/Qualification
Basic understanding of spoken & written English.
Familiarity with Internet surfing.
Basic knowledge of MS Office – Word, Excel, Paint, Powerpoint.
and you are good to go.
I am not saying that your degree is pointless. Having one is definitely an advantage.
it's an important factor in your job hunt as it serves the basic requirement and eligibility criteria for getting shortlisted for interviews.
Apart from that, having undergone a graduation course might help you get a better perspective of what you're learning, and how you're going to implement or apply it to an industry you work for or have studied about. Having spent three or four years completing your graduation (depending on your course, of course) gives you a better insight into what you want to do with your life or how would you like to shape your career path.
Nevertheless, none of these are factors that directly influence your choice to choose to do digital marketing.
For how many of us are actually happy with our degrees, marks, and jobs?
Remember, you don't just choose a course. You choose what you want to be.
Choose a place that helps you realize and fulfill your potential.
Skills can be learned and developed!
Hence, we here at WMA don't just focus on imparting subject knowledge and its practical implementation to our students, but:
On their overall personality development.
Preparation for Interviews.
Help them realize their passion.
Encouraging them to follow their passion.
Mentoring them – beyond digital marketing.
Build confidence.
Events like potlucks, etc. to make them more outgoing.
Events to help them network with others in the industry.
Explore new technology – like VR, Alexa!
To do things right. NO SHORTCUTS.
Question: Can I do freelance Digital Marketing?
Answer: Sure you can, you can do freelancing while working for any company. We have alumni who went into full-time freelancing. Here is one of our alumni who started her own freelancing Digital Marketing Services; https://alchemi.co.in/ and she has written here experience and detailed review about Web Marketing Academy: https://alchemi.co.in/why-web-marketing-academy-for-your-digital-marketing-course/
Other questions:
Should I do a digital marketing course?
Should I learn digital marketing?
The answer is always yes, it also depends upon your career goals, Objectives? I have written detailed answers for most of the FAQ's here in Quora: https://www.quora.com/profile/Suresh-Babu
Hope this helps. Please feel free to get in touch with me. My email address is Suresh at web marketing academy dot in
(Courtesy of Web Marketing Academy, Rated Best Digital Marketing Training Institute in Bangalore)
Summary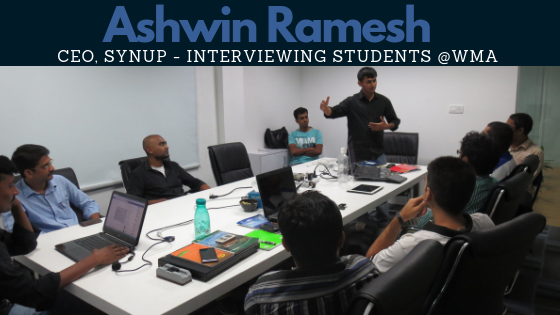 Article Name
Can I do Digital Marketing Course after 12th?
Description
Absolutely. All you need is interest, passion. Anyone can do Digital Marketing.
Author
Publisher Name
Web Marketing Academy Bangalore
Publisher Logo